For cooks who have everything, the best gift you can give is a little something edible. Preserves, pickles, oils and other jarred delicacies make great stocking stuffers and go a long way in supporting local restaurants and artisans. Consider bundling a few of your favorites together for an all-Ontario DIY gift basket situation.
We've put together a list of our 12 favorite locally-made treats to help get you started. Bon appetit!
1 HAKKA-ISH CHILI CRISP
Made by Zing in Toronto
cookwithzing.com
These delicious, made-in-Toronto cooking hacks are everything we're craving right now. The shining star of their line of small-batch, hand crafted products is 'Hakka-ish'. It's "a union of the spicy goodness of Sichuan cuisine and the bold & thrilling flavours of Indo-Chinese cooking". Crispy chilies, toasty spices and a hint of warm curry float in a sea of oil waiting to top your eggs or rice or noods or anything really.
2 RAW HOPPED HONEY
Made by Gibbs Honey in Vankleek Hill
gibbshoney.com
Andrea and Russell are the fourth generation of beekeepers at Gibbs Honey in Ontario's South East. Their Raw Hopped Honey is cold-infused with locally grown cascade hops adding some citrus notes and a bitterness that mellows out the sugar. It's herbaceous, it's luscious, it's down right unctuous.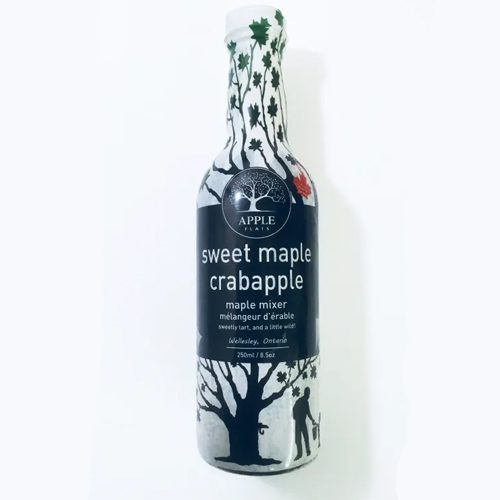 3 SWEET MAPE CRABAPPLE MIXER
Made by Apple Flats in Stratford
appleflatsfoods.com
This little mixer is a great gift for the cocktail lover in your life. It's tart, refreshing and adds an earthy sweetness to mixed drinks you won't find anywhere else. It's made in Perth County with crabapples that are grown locally in Ontario. They are hand picked and as an added bonus, they're never sprayed with chemicals.
4 Orange Marmalade with single malt whisky
Made by Tamarack Farms in Northumberland County
cedarlake.ca
This is hands down the best marmalade we have ever eaten. It's made by hand at Tamarack Farms – a 390-acre regenerative farm focused on growing heritage varietals for chefs located in Northumberland County.  Need more convincing? It won a gold award at the 2019 World Marmalade Festival in Penrith, UK.


5 Indigenous Owned Maple Syrup
Made by Giizihigat Maple Products on St. Joseph Island
giizhigatmapleproducts.com
Giizhigat Maple Products is an Anishinabe & Mohawk Family owned business. Deborah, Isaac and their two sons work the trees each season to collect the most glorious sap before turning it into their maple syrup. The result is rich, earthy and perfect for all your breakfast, lunch and dinner needs.

6 MASSAMAN CURRY PASTE
Made by Tropic Thunder in Toronto
tropicthunders168.square.site
According to their website, "Massaman curry paste is one of the more unique Thai curries thanks to its Persian influence." This fiery sauce originated in Thailand near the border of Malaysia. It makes a thick curry with a slightly sweet flavour.  The packets are great stocking stuffers, but we promise you'll have trouble giving them away.
7 Mustards, all the mustards
Made by Caplansky's in Toronto
caplanskys.com
This is a great gift for anyone who misses Caplansky's smoked meat sandwiches as much as I do – which is everyone, right? Five of their signature mustards (including the horseradish, my favorite!) all packaged up in a neat little box and delivered to your door. It's the best and most delicious kind of nostalgia.
8 Witch's Brew
Made by Pyramid Ferments in Prince Edward County
pyramidferments.com
We want to support local restaurants, but sometimes our bellies aren't in the mood. If, like us, your friends are eating too much take out to their health, this is for you. Keep their guts going by gifting them Witch's Brew – a time-honoured folk remedy with almost-magic healing powers. It strengthens the immune system, helps restore gut flora and gives your digestive system an all around boost.
9 Vindaloo Curry Paste
Made by Big Mama's in Owen Sound
bmkccanada.ca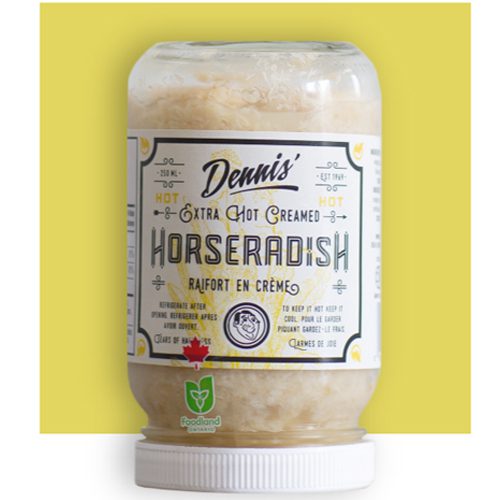 10 Extra Hot Horseradish
Made by Dennis's Horseradish in New Dehli, ON
dennishorseradish.com
A proud 60-year old Norfolk County brand, Dennis' Horseradish was founded by Dennis Gyorffy in 1960. We fell in love with this Ontario-made horseradish line-up the moment he told us horseradish should be stored upside down to maintain the heat. The Extra Hot Creamed horseradish is just that: EXTRA HOT.
11 Birch Syrup
Made by Sanagan's Meat Locker in Toronto, ON
sanagansmeatlocker.com
Birch syrup is a really unique treat. It's far less sweet than it's maple-made cousin and has a distinct earthy twang that is enjoyed by many. Peter Sanagan suggests you use it sparingly instead of aged balsamic vinegar.

12 Garden Chili Pepper Jam
Made by South Pond Farms in Kawarthas Lakes
shop.southpondfarms.ca
Made from chili peppers grown on the property, this sweet and spicy condiment is a true taste of the Kawartha Lakes. It's great served on baked brie, goats cheese or glazed on meats and vegetables. Party for one? Here we come!
Looking to add a little heat to your gifting?
Check out our 2020 All-Ontario Gift Guide for our favorite Ontario-made hot sauces.

2021's Most Anticipated Growth & Wealth-Building Opportunity
Join Thousands of Early Adopters Just Like You Who Want to Grow Capital and Truly Understand Cryptocurrency Together