When we think of the holidays, we think of charcuterie boards. For the uninitiated, Charcuterie is the art of arranging and preparing cheeses, cured meats, fruit, nuts, and preserves – balancing flavours of savoury, sweet, spicy, and sour. They're perfect for snacking around a table, and let's be honest; they make a great photo for your feed. You can support the amazing local makers we have here in Ontario and impress your friends and family with an all-Ontario charcuterie board that tastes as good as it looks. Here's how to build your own – like a pro.
Choose your board
Ottercreek Woodworks in Oxford County uses local hardwoods to make beautiful boards in various shapes, sizes, and wood types. Plus, their lumber is ethically sourced through urban removal, wind blow down, dead or diseased trees and sustainable logging practices, and they've partnered with One Tree Planted to plant a tree for every charcuterie board sold. For the full experience, they also offer 'From Tree to Table' – where you can make your own board from start to finish. Whether you're buying one, making one, or already own one – you'll want to use one that can accommodate all your selections.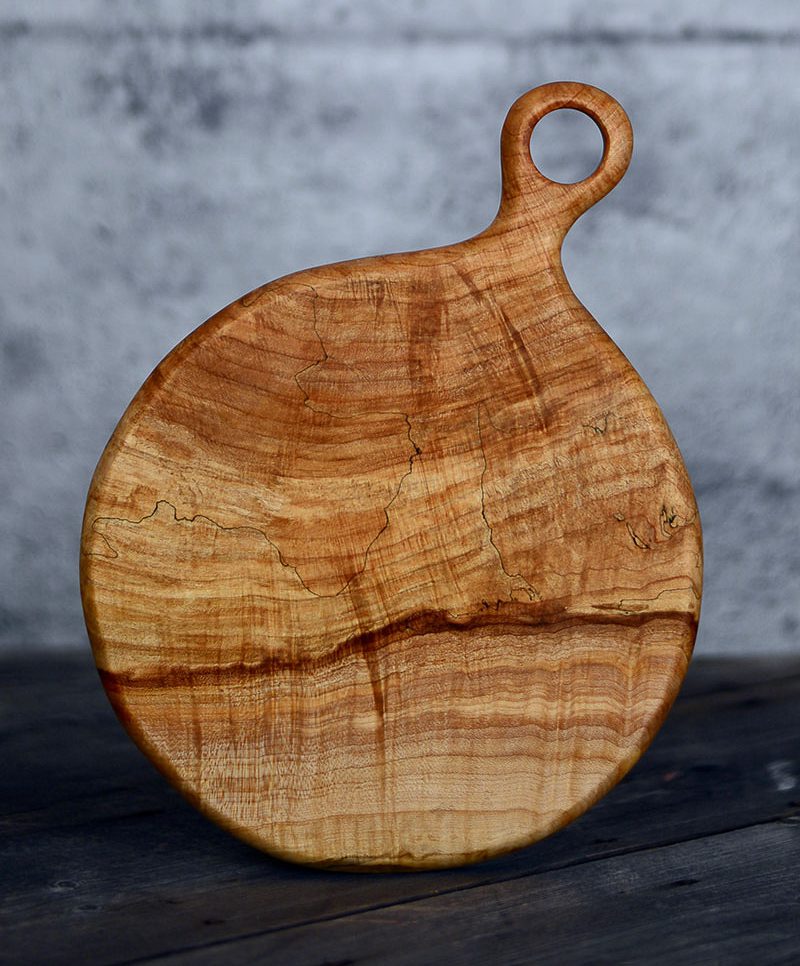 Ontario Cheeses
When you're choosing the perfect cheeses for your board, variety is key. Here are some of our favourite Ontario cheeses to cover all your bases (even dairy-free!).
Upper Canada Cheese
Comfort Cream
uppercanadacheese.com
Comfort Cream is a camembert-style soft, white bloomy rind cheese with a silky, creamy, golden interior. It's hand salted, hand turned, and hand wrapped. We like to let it sit out a little to encourage that tell-tale ooze.
View this post on Instagram
A post shared by Upper Canada Cheese Company (@uppercanadacheese)
Mountainoak Cheese
Farmstead Gold
mountainoakcheese.ca
Winner of 13 national and international awards, Mountainoak's Farmstead Gold is a full-flavoured Gouda that exudes hints of butterscotch and caramel. If you're looking for a flavoured or mild gouda, Mountainoak makes a wide range of Gouda cheeses.
View this post on Instagram
A post shared by Mountainoak Cheese (@mountainoakcheese)
Thornloe Cheese
Devil's Rock Blue Cheese
thornloecheese.ca
Devils Rock is their most popular blue cheese because it's ultra-creamy, delicious, and not as strong as some traditional blue cheeses. Let it reach room temperature, and it's perfectly spreadable.
View this post on Instagram
A post shared by Thornloe Cheese Inc. (@thornloecheese)
Fauxmagerie Zengarry
le Aged dairy-free (vegan) Cashew Cheese
zengarry.com
This is a sharp cheddar style cashew cheese cultured with Beau's Lugtread beer. Zengarry makes 7 delicious styles of their plant-based cheeses, perfect for vegan or lactose-intolerant snackers – but be mindful of nut allergies.
View this post on Instagram
A post shared by Fauxmagerie Zengarry | Vegan (@zengarryveg)
Cured Meats
Dating back to ancient times, curing is one of the oldest food preservation and flavouring techniques. There's a bunch of different styles originating around the world, and they'll make a great addition to your charcuterie board.
King Cole Ducks
Smoked Duck Breast
kingcoleducks.com
You've got to try the duck! Packed with flavour and just the right amount of smokiness.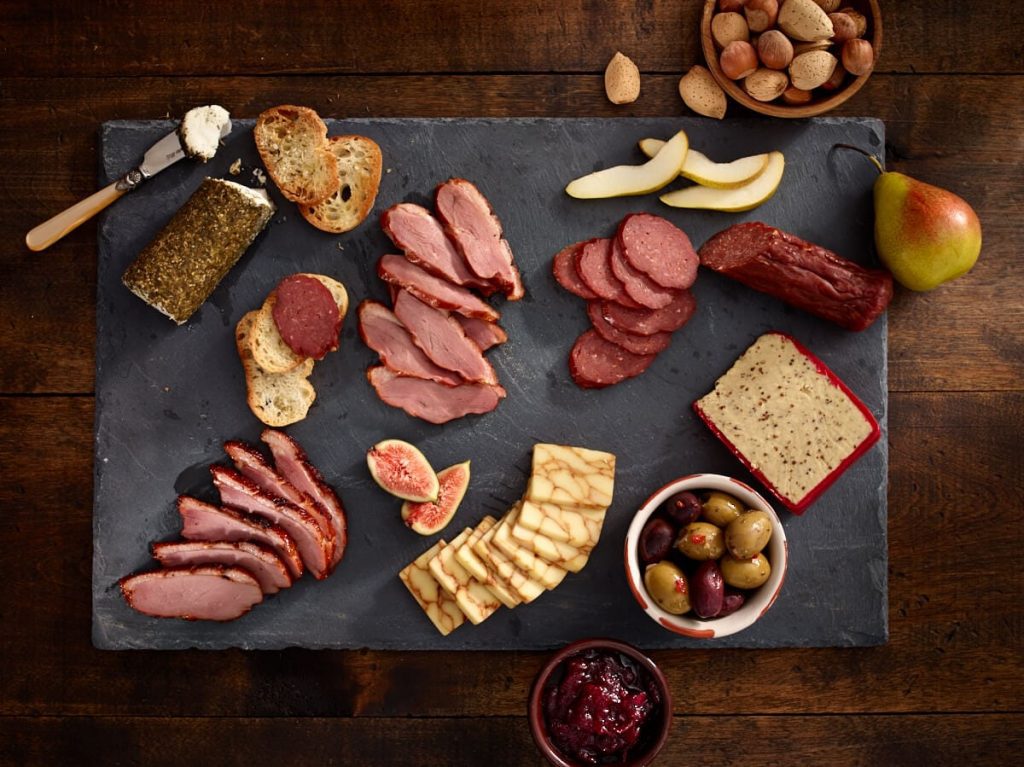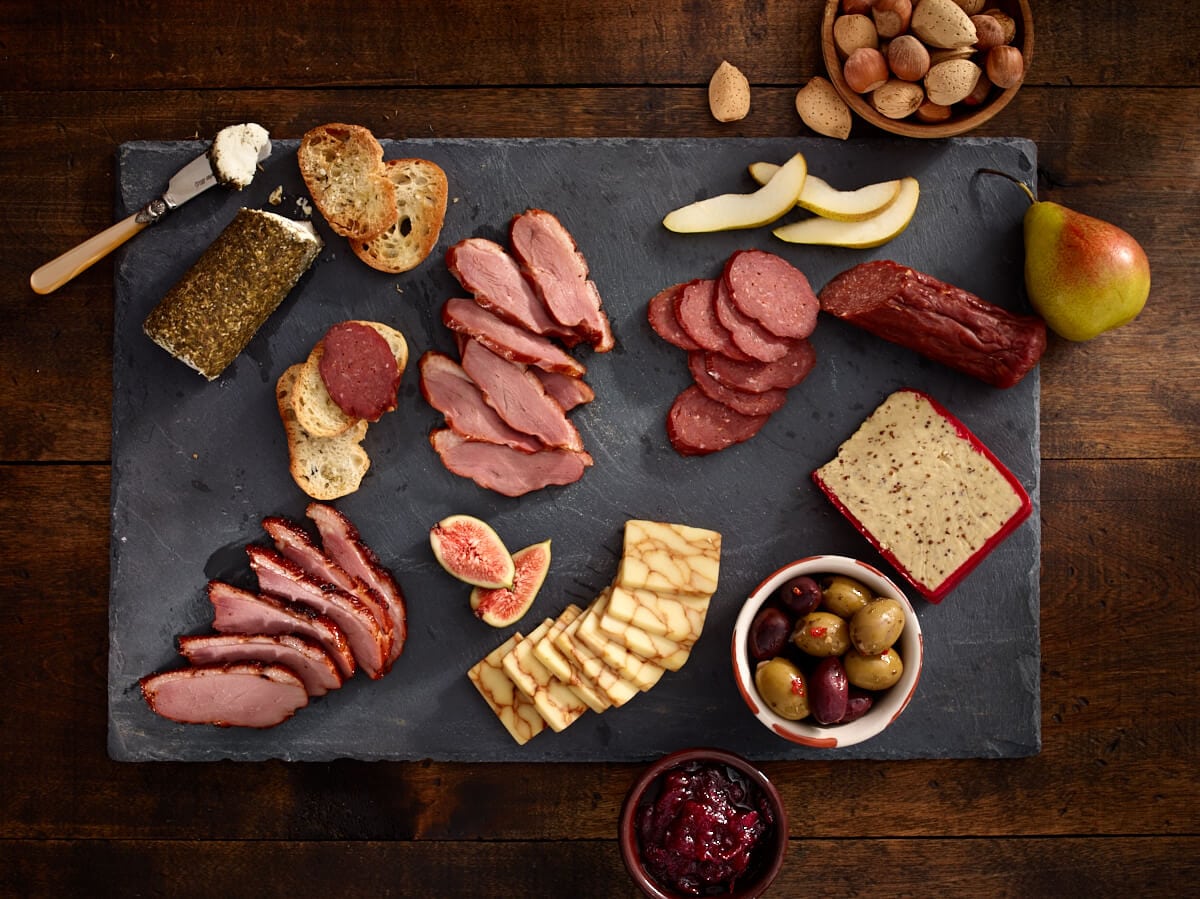 Sanagan's Meat Locker
Hot Genoa Salami
sanagansmeatlocker.com
There's room to pick your favourites when building the perfect charcuterie board, but we love this classic Genoa style salami from Feast On Sanagan's Meat Locker.
Petit Brule
Smoked Fish
petitbrule.ca
The Comfort Cream we mentioned above makes a great pairing with smoked fish. Add some fresh dill and a cracker, and you've got a perfect bite.
View this post on Instagram
A post shared by fabiennecote (@petitbrule)
rtisinal nuts
Hazelnuts, walnuts, pecans – roasted with all kinds of different flavours. Roasted nuts add another dimension to your board to take it to the next level.
Jewels Under the Kilt
Sweet Whisky Pecan
jewelsunderthekilt.com
Add some sweetness to your board with these delicious roasted pecans. They're made with local craft whisky and Canadian maple syrup.
Preserves, Jellys & Jams
These provide some sweetness and tang to balance the salty meats and cheeses on your board.
Rootham Gourmet Preserves
Strawberry Rhubarb Preserves & Tangy Red Pepper Jelly
roothamsgourmet.com
With local ingredients produced by Ontario growers, small-batch and hand-crafted production, Rootham is as local as it gets. We love their Strawberry Rhubarb Preserve – basically a spreadable pie filling (how good does that sound?!) and their biggest seller, the Tangy Red Pepper Jelly.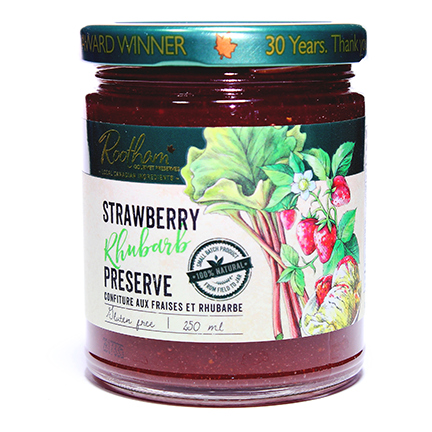 Honeycomb
If you've never had raw honeycomb, you've been missing out. It's sweet. It's chewy. It's incredible.
Ontario Honey Creations
Headwaters Raw Honey Comb
myhoneycreations.com
Simple and delicious, it makes a great companion for hard cheeses and spicy flavours.
View this post on Instagram
A post shared by Ontario Honey Creations (@ontariohoneycreations)
Fruit
Adding fresh and/or dried fruit brings another layer of texture to your charcuterie. Ontario apples, pears, strawberries and dried apricots work well – plus they are available in winter months!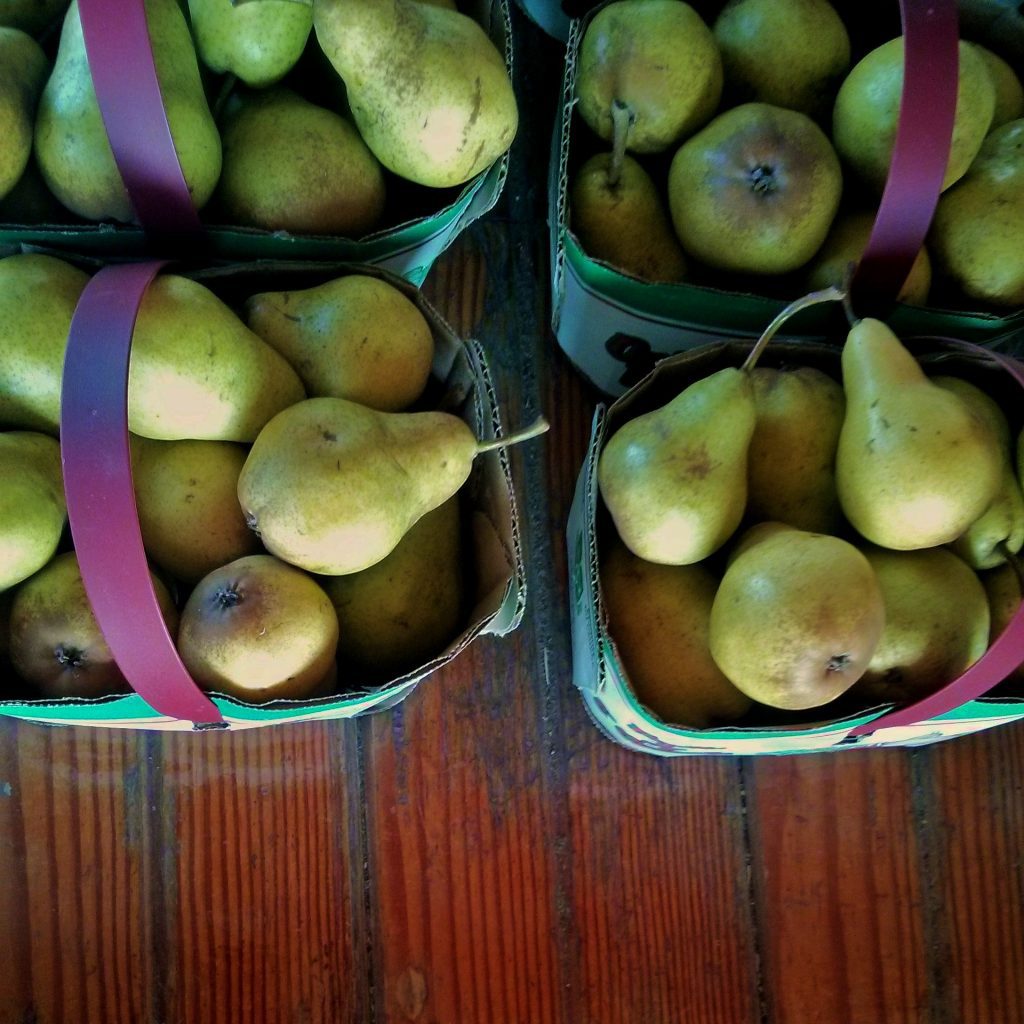 Bread and Crackers
Add the perfect crunch and chew to your board with some Ontario-made crackers and breads.
Evelyn's Crackers
Slightly Seedy
evelynscrackers.com
Sourdough crackers made with Ontario Red Fife wheat, sesame seeds and pumpkin seeds.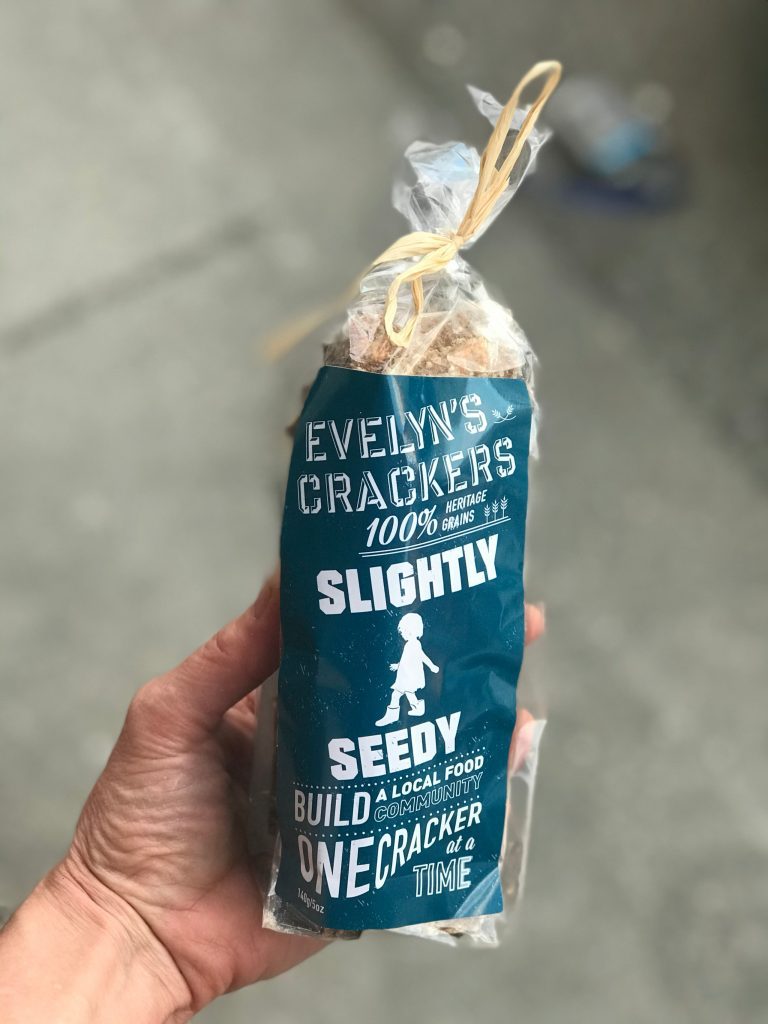 Local bread
Get delicious local bread delivered to your door.
Eight Bread Delivery Services in Ontario you can use right now
Put it together
Once you have all the pieces to your delicious puzzle, it's time to put it together. The exact placing will depend on your board's shape and size, but here are some tips.
Use small serving bowls for jams, preserves, nuts, honeycomb and berries. You can use the bowls to support your crackers and sliced items. When making your piece of edible art, arrange the colourful items thoughtfully around the board, remembering to leave room for the other items. Some cured meats can be rolled or fanned out.It's not all about looks! Arrange complimentary flavours near each other. For an extra flair, arrange similar colours in different sections of your board. 
Enjoy!
Looking for some great Ontario wines to pair with your charcuterie board?
12 Gift Ready Ontario VQA Wines We Love
Keep the Holidays with our all-Ontario Gift Guide!

2021's Most Anticipated Growth & Wealth-Building Opportunity
Join Thousands of Early Adopters Just Like You Who Want to Grow Capital and Truly Understand Cryptocurrency Together